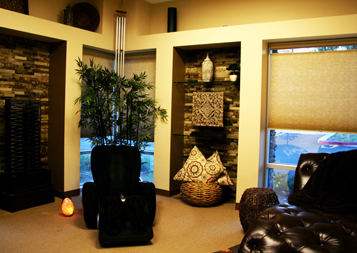 Our evening Depression Recovery program provides support and assistance to participant's who suffer from and have been diagnosed with Major Depressive Disorder (MDD) and who's symptoms are significantly impairing their daily functioning.
The Depression Recovery program is in the evenings from 4:00pm-7:00pm, Monday, Wednesday, Thursday. Individual treatment planning and progress assessment sessions will be scheduled with the treating therapist in the first and third week of the treatment program. The program curriculum is on a 6-week rotation, providing participants with 20 treatment sessions per cycle of treatment. New patient admissions will take place during the first and fourth weeks in the treatment cycle. It is important to understand that participation in the program requires a commitment to attend all scheduled group and individual sessions. This allows for group cohesion to form and for concepts to be internalized through consistent application.
Valenta's group-based Depression Recovery program is appropriate for individuals who meet APA criteria and are looking for a higher level of support and tools to increase their quality of life and decrease/ manage depressive symptoms. Our group-based model is aimed at working in conjunction with already established individual outpatient teams; therapist, psychiatrist. For individuals who don't have an established individual outpatient treatment team, referrals and assistance will be provided and a team will be established before completion of the program. Valenta's evening program allows for minimal disruption to work and educational schedules and provides opportunity for skills learned in sessions to be applied and internalized in real daily life situations. Our program is appropriate for individuals who could benefit from the addition of group-based therapy as well as for those who are stepping down from a "higher level of care" and looking to transition back into daily life.
Each participant will be provided with a free individual assessment to assure the appropriate fit for the Depression Recovery program and upon admission will attend an initial individual treatment planning session to formulate collaborative treatment goals. About half way through the program individuals will be provided with another individual session aimed at progress assessment and ongoing treatment/ discharge planning. All other treatment is group-based, participants will attend various groups aimed at teaching and applying concepts and skills to decrease depressive symptomology and improve overall quality of life. Our goal is to come along side of you in your time of struggle and empower you to have a voice on your path to health and wellness.
Groups Provided:
Cognitive Behavioral Therapy (CBT)
Dialectical Behavioral Therapy (DBT)
Self-care/ Coping
Goals/ Self-Assessment
Nutrition/ Health
Topic Process
Other Services:
Free initial Assessment
Individual treatment planning session
Individual progress assessment session
Referrals to support resources/ individual treatment providers
Collaboration with current provide